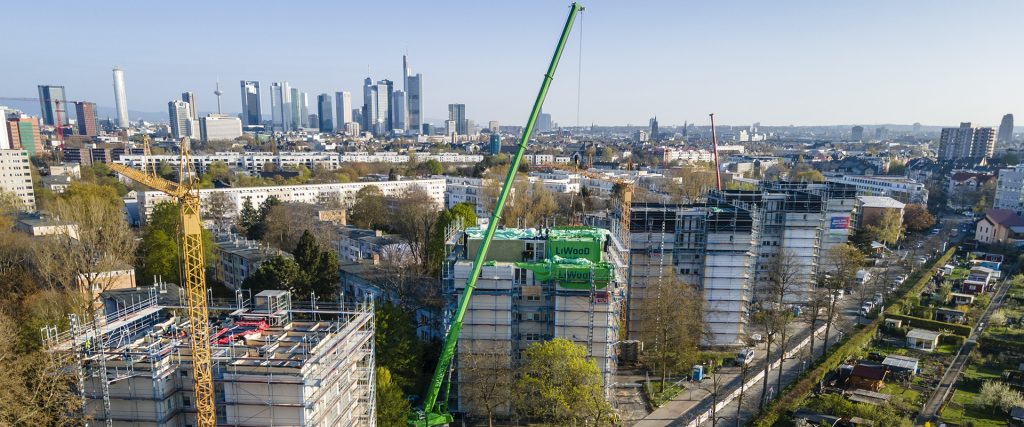 Fritz Kissel Siedlung

Extension of the listed Fritz Kissel housing estate in sustainable timber construction. Fast and noise-minimising construction method using prefabricated timber modules.
| | |
| --- | --- |
| Location: | Mörfelder Landstraße, Breslauer Straße, Ziegelhüttenweg, Frankfurt am Main |
| Client: | Nassauische Heimstätte, Vonovia |
| Typology: | Residential building, Redensification |
| Area: | 10.480 m² |
| Res. units: | 82 (NH), 48 (Vonovia) |
| Completition: | 2021 |
| Procurement: | Direct Commissioning |
| Project phases: | 1-4, +5 advisory |
| Project partner: | LiWood Holzmodulbau AG, München |
The Fritz-Kissel-Siedlung was built in the early 1950s. It follows on from the large Riedhof housing estate project from the May era, but differs fundamentally from the housing estates of the 1920s: the short three- and four-storey rows are aligned in a north/south direction and slightly turned towards each other. Vehicular access is from the gable ends of the rows, with residential paths leading through the lush green spaces in between to the entrances of the houses. At the southern edge of the housing estate, the city's edge is clearly marked by single six-storey houses. As Frankfurt's largest post-war housing estate, it was listed in 2000. Particularly worthy of protection is the urban figure, which has remained almost unchanged to this day.
In view of the increasingly scarce living space in Frankfurt, the estate is to be carefully redensified. In close consultation with the authorities responsible for the preservation of historical monuments, the following approach was adopted:
– New living space will only be created by adding storeys.
– The open spaces will not be built on, and all green areas will be preserved.
– The new storeys will be constructed in such a way that they differ from the existing buildings in terms of materials and colouring. In this way, the original proportions remain legible.
The additions, with a total of 130 flats, will be made using wooden modules, usually one storey high. Only the single detached buildings will receive two new storeys, as they had already received lifts during the last refurbishment. Because of the low weight and the short construction time, as well as for ecological reasons, the extensions are being built in timber modules. A load distribution level is introduced between the existing building and the new storey, which also accommodates the supply lines.
The timber modules are bonded together with an inverted formwork made of coloured fibre cement strips. Windows and balconettes are made of white plastic. The balcony railings are made of steel bars. All existing buildings will be repainted in the colour scheme of the construction period.
The tenants will remain in their flats during the construction period. In order to reduce the construction work in the existing buildings to a minimum, the supply of the additional storeys will be carried out via external shafts. Air/water heat pumps are used to heat the new floors.